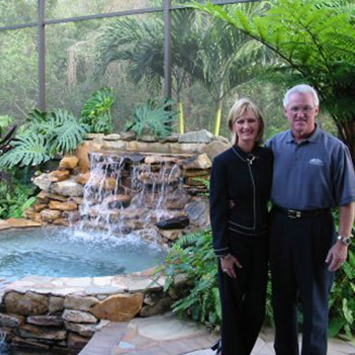 Donnie And Connie Vestal
Home Owner
Dan and Connie Vestal invested 3 worthwhile years searching for the right builder for their new home. They scrutinized countless model homes. Dan says, "We looked at the steps that were being taken in order to build the homes from start to finish. Obviously, quality workmanship is very important." They also met with all the reputable builders of southern Florida. Dan explains his strategy, "We were looking for all those things that you look for in a business relationship." Dan adds, "What's interesting, in the time spent during the process, when we were looking at homes and builders, we never heard any detrimental remarks about Southern Bay Homes, not one. It was always 'what good people' and 'what nice people' and 'how honest they are.'"
Dan and Connie were impressed with the quality workmanship they noticed in the Southern Bay model homes. They met with Tom Vigneri and later on with Mark Bagley. Tom and Mark answered all their questions and listened to all their ideas. Dan says, "Between those two guys, it was an easy choice to go with Southern Bay. There was a truth factor in there that – you just sense that it was there, and that was important to us. We want somebody to be honest with us."
The Vestal's building lot was a builder's nightmare, but not for Mark and his expert team of building professionals. From the design process, to the architectural plans, to the building of the home, customization was the order. Dan laughs as he remembers how they worked through it: "In the initial design there were a couple of moments there, where we kind of looked at each other and smiled.  So there again, it was actually a fun process."  Southern Bay's team is capable and confident, even in the midst of significant challenges.
Dan and Connie enjoyed participating in the design process and really appreciated that their input was welcome throughout the building process. Dan says, "One of the things we liked from the very beginning was that there was a pad and paper every time we talked. They would always write down exactly what we said. There was good communication from the very beginning. There was not any drama to it – there can be too – there can be a lot of drama. It's part of Murphy's Law, if it can go wrong it will, and we just didn't experience that. I think that when you take drama out of it, you know what you're getting."
Dan and Connie Vestal had Southern Bay Homes build everything that they wanted into their home, making it truly a dream home. The entire house is a custom work, and they like knowing that there's not another one like it.  The Vestals have built other homes in the past, so they know a good home building experience when they have one. Dan says, "Southern Bay Homes made it very pleasurable, and you're getting a quality home that's built with the very best materials that are out there."
The way Dan sees it, hindsight is the only 20/20 vision most of us have. Ultimately what you want to say is, if you had it to do over again, you'd do it all over again just the same. Dan Vestal says, "If I wanted to do it all over again, there is no question in my mind that Southern Bay would build my home again." The Vestal's hindsight rewards them for those 3 years they spent searching for and finally finding the right builder, Southern Bay Homes.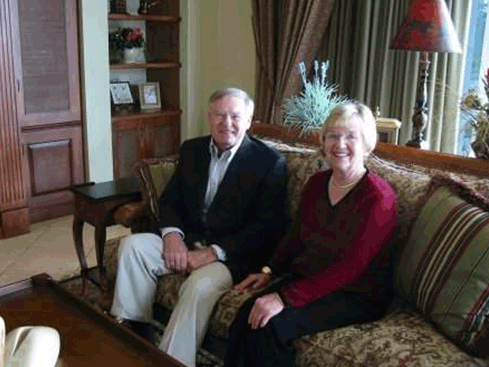 Fred and Lois Busch
Home Owners
Bordering a peaceful nature preserve, far away from commotion and noisy traffic, a quiet lakeside home is a haven for the Buschs…
A couple years ago, Fred and Lois Busch were very wary. They had heard bad things about some Florida builders. They visited a luxurious Southern Bay model home and liked the home plan. They decidedly made their way to builder's office, and they liked Mark Bagley.
"I just felt very comfortable working with the people at Southern Bay, because I felt that with them, you probably didn't even need a contract. You could probably do it on a handshake. We just felt that we were in good hands."
Fred Busch is a proactive gentleman who knows what he wants and isn't shy to tell it. He expected quality construction at a fair price. Lois Busch is a level-headed woman with an intuitive approach.  She counted on a builder with integrity. Mark Bagley is a conscientious builder who enjoys exceeding expectations. Their first meeting was the beginning of a beautiful relationship.
" We described our lifestyle, some of the things we were looking for in the home, and what changes we'd like to make to the basic plan. That was all discussed favorably, and it wasn't too long before we were given revised plans showing our changes. Mark worked on those diligently in order to get us what we were looking for, and Mark made a lot of good suggestions that helped us as far as expanding our plan."
Lois especially liked Mark's suggestion to convert some useless areas of the spacious guest suite to make them functional and practical. Lois says, "That's the part of the house everyone likes the best."
Fred's favorite suggestion was the installation of two glass sliders in the outside corner of the family room at the rear of their home. The sliders pocket back, opening the entire corner of the room to their negative edge pool, which appears to be flowing into the lake beyond the pool. The view is breathtaking.
Southern Bay worked closely with the Busch's decorator to achieve what Lois calls a Mediterranean, Tuscan type home. Their decorator, Marcia Roberts, was in on the planning for niches built into the walls and the wall finishes, such as wallpaper and 3-D faux finishes.  Pre-planning together was critical, as various things had to be done before other things. (Marcia Roberts earned the prestigious Sand Dollar Award for her work in the Busch's home.)
"When we finished building, we had a punch list to go through, and Mark wanted to see the house too. He came through and added to the punch list with stuff he wasn't quite satisfied with… We trusted them, always they responded quickly to any calls, and things that we had to discuss, change, or do with them. We got a quick response to everything. Just one call did it. We felt like we were always top of the list to get our questions answered."
Fred says, "Knowing I had an honest and reliable builder with a competent staff is the one thing about my experience with Southern Bay Homes that has made me the happiest." Lois says, "I think it all goes back to the wonderful designs that they have. The other thing is the basic honesty of the people. It was really nice feeling with them." And Fred adds, "And easy working with them."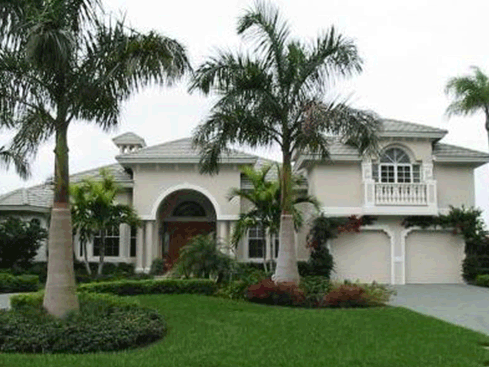 Frank and Mary Ronnenberg
Home Owner
Situated along the bay near southern Florida's charming Venetian Village, Frank and Mary Ronnenberg had enjoyed their beautiful property for many years. Their old home needed renovations, but flood control restrictions presented a problem… or should we say an opportunity.
Frank pointed out that his original builder had a fantastic reputation, but he wouldn't budge off his design. "He just kept rearranging things, but it was always the same." The Ronnenbergs needed a builder that would move their plans forward.
The Ronnenbergs did their homework. Frank wanted to know who Southern Bay Homes had done business with, so Mark Bagley provided a list of about 30 homes and a couple of banks. Mark told Frank, "Call them and find out what they say." Frank randomly selected 8 clients and called both banks.
The Ronnenbergs will tell you that they really liked Mark Bagley personally when they first met him, but the references from prior clients were the most compelling reason they went with Southern Bay Homes.
Mark took the Ronnenbergs to see 2 or 3 houses that he had under construction. Then they told him what they were interested in, and he had the architectural drawings and the building plans drawn up. Frank is still impressed as he reminisces, "No, we had no problems at all. We just sat down and hacked it all out… after we got the first plan set, then we had another idea, which they were able to redo the plans and incorporate, and that was it!"
War stories about builders are abundant and extensive. When people ask Frank how he made out with his builder, Frank enjoys telling them how great it was. Frank tells them that Mark Bagley is the one to talk to. "They did a good job on our place. It was done on schedule, and when they said it was going to be done, it was done."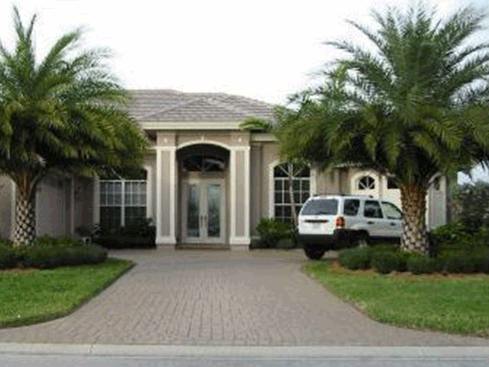 Steve and Mary Stessel
Home Owner
Steve and Mary Stessel appreciate scrupulous attention to detail and smooth clean lines. They toured many beautiful new homes in southern Florida's exclusive communities, before they happened into one of Southern Bay Homes' furnished models and found what they were looking for. That was the day they met Dave Johnson, Sales Director for Southern Bay Homes.
The Stessels had ideas of their own. Dave listened. To their delight, the Stessels discovered that Southern Bay Homes would custom-design their choice of floor plans to give them exactly what they wanted. Southern Bay would make their dream home a reality, down to the little details.
Leaving the confines of the preconceived floor plan gave the Stessels fantastic freedom of movement. The architect modified the master bath and enlarged other areas to create a more spacious and open living area.
Having lived in northeastern United States for the last 30 years in a two-story colonial style home with cubicle boxy rooms, the Stessels were ready for more than a climate change when they moved to Florida. They wanted an open and free flowing design. That's exactly what Southern Bay Homes delivered. The custom design achieved the Stessels' goals for a home that was unique to them. Their new home accommodated their desires for a lifestyle transformation. They cite Southern Bay Homes' willingness to make necessary changes to the plan as the most compelling reason they decided to purchase a home built by South Bay Homes. The Stessels recommend Southern Bay Homes to their friends and family, rating the reputation of Southern Bay Homes, the quality of construction, and the landscaping design as excellent. They are very satisfied with everything Southern Bay Homes has offered them.
"We have only good things to say regarding the whole pleasant experience."