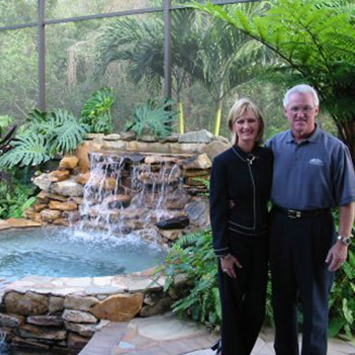 Dan and Connie Vestal invested 3 worthwhile years searching for the right builder for their new home. They scrutinized countless model homes. Dan says, "We looked at the steps that were being taken in order to build the homes from start to finish. Obviously, quality workmanship is very important." They also met with all the reputable builders of southern Florida. Dan explains his strategy, "We were looking for all those things that you look for in a business relationship." Dan adds, "What's interesting, in the time spent during the process, when we were looking at homes and builders, we never heard any detrimental remarks about Southern Bay Homes, not one. It was always 'what good people' and 'what nice people' and 'how honest they are.'"
Dan and Connie were impressed with the quality workmanship they noticed in the Southern Bay model homes. They met with Tom Vigneri and later on with Mark Bagley. Tom and Mark answered all their questions and listened to all their ideas. Dan says, "Between those two guys, it was an easy choice to go with Southern Bay. There was a truth factor in there that – you just sense that it was there, and that was important to us. We want somebody to be honest with us."
The Vestal's building lot was a builder's nightmare, but not for Mark and his expert team of building professionals. From the design process, to the architectural plans, to the building of the home, customization was the order. Dan laughs as he remembers how they worked through it: "In the initial design there were a couple of moments there, where we kind of looked at each other and smiled.  So there again, it was actually a fun process."  Southern Bay's team is capable and confident, even in the midst of significant challenges.
Dan and Connie enjoyed participating in the design process and really appreciated that their input was welcome throughout the building process. Dan says, "One of the things we liked from the very beginning was that there was a pad and paper every time we talked. They would always write down exactly what we said. There was good communication from the very beginning. There was not any drama to it – there can be too – there can be a lot of drama. It's part of Murphy's Law, if it can go wrong it will, and we just didn't experience that. I think that when you take drama out of it, you know what you're getting."
Dan and Connie Vestal had Southern Bay Homes build everything that they wanted into their home, making it truly a dream home. The entire house is a custom work, and they like knowing that there's not another one like it.  The Vestals have built other homes in the past, so they know a good home building experience when they have one. Dan says, "Southern Bay Homes made it very pleasurable, and you're getting a quality home that's built with the very best materials that are out there."
The way Dan sees it, hindsight is the only 20/20 vision most of us have. Ultimately what you want to say is, if you had it to do over again, you'd do it all over again just the same. Dan Vestal says, "If I wanted to do it all over again, there is no question in my mind that Southern Bay would build my home again." The Vestal's hindsight rewards them for those 3 years they spent searching for and finally finding the right builder, Southern Bay Homes.