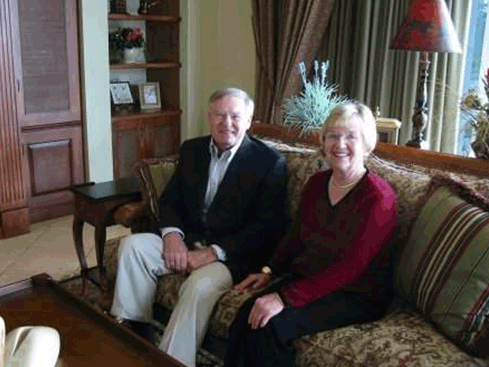 Bordering a peaceful nature preserve, far away from commotion and noisy traffic, a quiet lakeside home is a haven for the Buschs…
A couple years ago, Fred and Lois Busch were very wary. They had heard bad things about some Florida builders. They visited a luxurious Southern Bay model home and liked the home plan. They decidedly made their way to builder's office, and they liked Mark Bagley.
"I just felt very comfortable working with the people at Southern Bay, because I felt that with them, you probably didn't even need a contract. You could probably do it on a handshake. We just felt that we were in good hands."
Fred Busch is a proactive gentleman who knows what he wants and isn't shy to tell it. He expected quality construction at a fair price. Lois Busch is a level-headed woman with an intuitive approach.  She counted on a builder with integrity. Mark Bagley is a conscientious builder who enjoys exceeding expectations. Their first meeting was the beginning of a beautiful relationship.
" We described our lifestyle, some of the things we were looking for in the home, and what changes we'd like to make to the basic plan. That was all discussed favorably, and it wasn't too long before we were given revised plans showing our changes. Mark worked on those diligently in order to get us what we were looking for, and Mark made a lot of good suggestions that helped us as far as expanding our plan."
Lois especially liked Mark's suggestion to convert some useless areas of the spacious guest suite to make them functional and practical. Lois says, "That's the part of the house everyone likes the best."
Fred's favorite suggestion was the installation of two glass sliders in the outside corner of the family room at the rear of their home. The sliders pocket back, opening the entire corner of the room to their negative edge pool, which appears to be flowing into the lake beyond the pool. The view is breathtaking.
Southern Bay worked closely with the Busch's decorator to achieve what Lois calls a Mediterranean, Tuscan type home. Their decorator, Marcia Roberts, was in on the planning for niches built into the walls and the wall finishes, such as wallpaper and 3-D faux finishes.  Pre-planning together was critical, as various things had to be done before other things. (Marcia Roberts earned the prestigious Sand Dollar Award for her work in the Busch's home.)
"When we finished building, we had a punch list to go through, and Mark wanted to see the house too. He came through and added to the punch list with stuff he wasn't quite satisfied with… We trusted them, always they responded quickly to any calls, and things that we had to discuss, change, or do with them. We got a quick response to everything. Just one call did it. We felt like we were always top of the list to get our questions answered."
Fred says, "Knowing I had an honest and reliable builder with a competent staff is the one thing about my experience with Southern Bay Homes that has made me the happiest." Lois says, "I think it all goes back to the wonderful designs that they have. The other thing is the basic honesty of the people. It was really nice feeling with them." And Fred adds, "And easy working with them."